As the most wonderful time of the year approaches, many parents start to explore Christmas activities to do as a family. If you're stuck for ideas on what activities you can try this year, here I've compiled a list of 26 fun Christmas things to do with kids.
These Christmas activities and crafts will be much loved by children of all ages and parents will enjoy them too.
Here are 26 Christmas things to do with kids
1) Create your own Christmas cards
Giving Christmas cards is a thoughtful way of showing family and friends you care, especially when these are handmade by you. To save money on Christmas cards, you can make your own using materials from around the home.
You can buy craft supplies such as colourful cardstock, pens, glitter, glue, stencils and other things to decorate your cards with.
2) Create Christmas Tree ornaments
Another enjoyable activity for families on the lead up to Christmas includes diy Christmas tree ornaments. You can make ornaments a number of ways but here is a simple, method on how to make Christmas saltdough ornaments. Here is a different method to create a baby handprint ornament.
3) Bake Christmas cookies
Using Christmas cookie cutters, you can bake Christmas cookies of different shapes and sizes and have your kids help you with such tasks like kneading the dough. You can also leave some cookies out for Santa on Christmas Eve which kids love to do.
4) Have a Christmas Film marathon
Kids absolutely love Christmas films. What better way is there to get into the Christmas spirit than watching a new or classic, much loved Christmas film? Better still, have a Christmas film marathon with all your favourites!
5) Visit Santa Claus
Take your children on a trip to visit Santa Claus and have a family photo with Santa while you are there. Or you could go for breakfast with Santa. I'm sure you will have many opportunities to see Santa before he goes back to the north pole to get ready for Christmas Eve.
6) Sing Christmas carols and Christmas songs
A Christmas bucket list is not complete without Christmas carols and songs! To get in the Christmas mood you can sing carols together as a family. Or if you're not into singing, you can play some Christmas songs and enjoy them in the background while you do other things in your home.
7) Visit Christmas markets
One of my family's top things to do at Christmas is visiting Christmas markets with stalls selling food, clothing, ornaments and toys. Have a look what markets are in your area.
8) Christmas tree decorating activities
Your kids can get on board with helping to decorate your Christmas tree or they can do one of these Christmas tree crafts. They will be so happy to decorate the Christmas tree with lights, baubles, ornaments and tinsel and see all the bright colours.
9) Go to a Christmas carol concert
Christmas caroling is less popular now than it used to be but it certainly still exists. There are events that you can visit to see carol singers perform. You can also join in the singing if you wish.
10) Make popcorn string garlands
Making popcorn strings is a traditional Christmas activity. Popcorn strings can be used for Christmas tree decorations or to hang around your home.
Making popcorn strings involves taking popcorn and other festive items such as dried oranges and berries and threading them on a string to create a beautiful garland. Here is how to make a popcorn string decoration.
11) Watch Christmas lights Being Switched on
Get into the Christmas spirit by attending events such as a Christmas lights switch on in your community. Your kids will love to see the bright lights and they'll enjoy the atmosphere.
12 Create a Christmas treasure hunt
Treasure hunts are not only fun activities for young children, but they can be exciting for children of all ages. All you need to do is simply give clues to your children of where they can find Christmas treats around your home or in the garden and let them find these.
13) Do some Christmas colouring
You can either buy a Christmas colouring book or download some colouring pages online. Colouring is enjoyed by all children and many adults. If you want to, you can even use your colouring pages for creating Christmas cards.
14) Try an easy Christmas stocking craft
You and your kids can make and decorate Christmas stockings using some plain socks, pom poms and other items.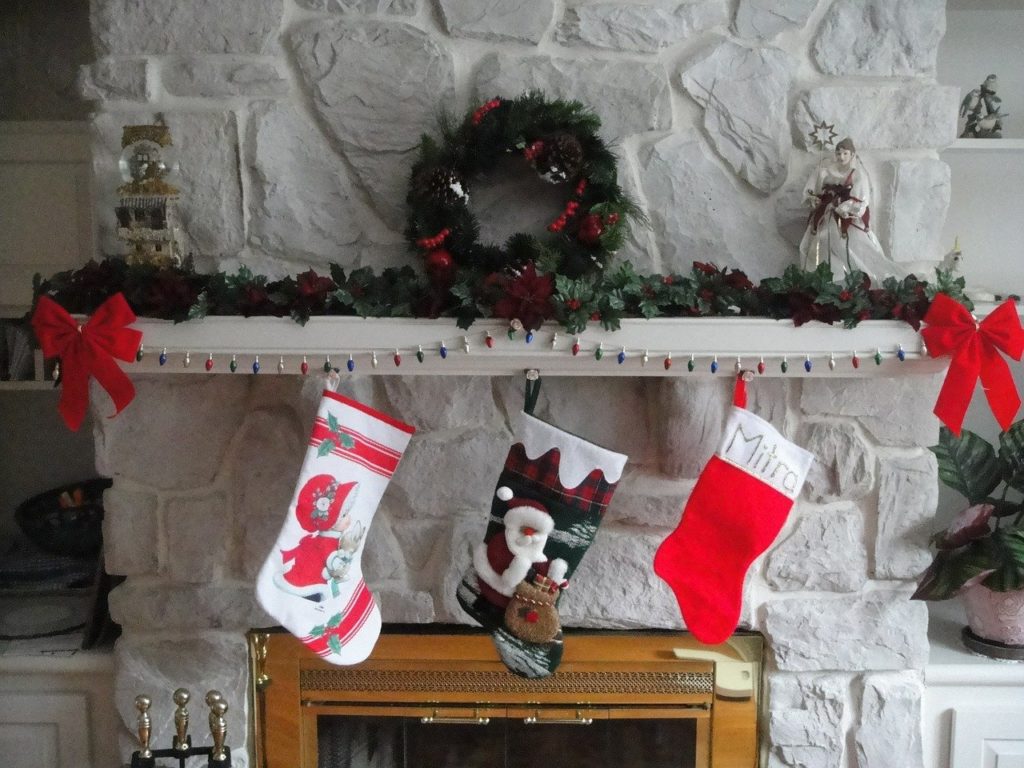 15) Play Indoor Christmas games
Christmas games such as charades are perfect activities for the family during the festive period. You can also have a game of Bingo with some Christmas bingo sheets.
16) Make a gingerbread house together as a family
Making gingerbread houses is a Christmas tradition for many families and it encourages families to bond and spend time together. Here is a Gingerbread House recipe that is easy to follow or you can buy a gingerbread house from a supermarket then decorate it.
17) Read Christmas poems together as a family
Why not read through some lovely Christmas poems as a family to get you in the Christmas spirit. These can also help to educate children about the traditions of Christmas.
18) Write a letter to Santa Claus
Children will cherish the memories of sending letters to Santa for years and years. Letters to Santa can be posted in Christmas or standard mailboxes and you can get a response back from Santa – find out how here, plus here's a free editable letter to Santa template that can be computer edited and personalized for your child.
19) Give your children an early Christmas present
Children love early presents, so why not make it a family tradition to give your little ones an early Christmas present to enhance the excitement of Christmas.
20) Watch a Christmas show
See if there are any Christmas pantomimes, Christmas plays or musicals in your local area. This will no doubt get your kids excited for Christmas.
21) Play in the snow
Grab your Christmas sleds or make a snowman in the snow! Christmas activities like these leave great memories for the kids as they get older.
22) Give to others at Christmas time
Christmas is all about giving and sharing! Christmas generosity can be practiced by donating Christmas presents to children who are less fortunate, giving food to the homeless and clothes to those in need. This helps to teach kids about the values of giving at Christmas.
23) Make a Christmas wish
You and your kids can make Christmas wishes just to make Christmas a bit more magical – here's how to do it.
24) Host a Christmas party!
You can have a pre-Christmas party. This is a great way to spend time with family and friends you won't get to see on Christmas Day. Games like pass the parcel, charades, bingo and Christmas quizzes are perfect for children of different ages.
25) Go Ice skating as a family
Ice skating is a bit of fun for the whole family. You can enjoy ice skating at Christmas rinks or ice skating facilities during the holiday time.
26) Build a snowman Activity
Want to make a snowman but there's just no snow? Why not build a snowman with a free printable activity where you can choose your snowman's outfit and accessories. You can use this snowman printable to create your own beautiful Christmas cards or use it as a display to keep on your mantelpiece by placing it in a frame.
Enjoy these kids and Family Christmas activities
I hope you find this list of 26 fun Christmas things to do with kids great fun. Let me know your favourite activity in the comment box below.
Merry Christmas!